WUHU, CHINA – In September, esteemed automotive journalists and KOL representatives from the Philippines embarked on a test ride and drive journey called "Foresee the Future Way," gaining insight into OMODA's and JAECOO's research and manufacturing prowess. This hands-on experience took place in Wuhu, the global headquarters of both OMODA and JAECOO.
The Philippine media roved through traditional Chinese architectural landscapes of Jiuzi Ancient Town and Longshan Multi-functional Test Field aboard the OMODA C5 and JAECOO 7. They enjoyed an immersive journey, intertwining the essence of the future with classical charm.
OMODA: Embracing the Future
Targeting the global eco-conscious and forward-thinking youth, OMODA positions itself as a Crossover, dedicated to pioneering the next generation of sustainable lifestyles. It stands as the epitome of ecological commitment and avant-garde fashion.
Committed to presenting young users with avant-garde design and futuristic technology, OMODA seeks to disrupt the current paradigm, anticipating what's next.
The OMODA C5, a flagship vehicle of the OMODA brand, rightfully claims its fame. By keenly observing global youth aesthetic trends, it introduces the "Art in motion" design concept, projecting a car that seems as though it's straight from the future. Diamond-cut geometric matrix grills, dynamic and powerful waistlines, 18-inch dual-color blade wheel hubs, and a low-slung sporty stance perfectly forge its futuristic and striking appearance.
During the test drive in Jiuzi Ancient Town, the OMODA C5 impressed the media guests with its solid chassis and exhilarating performance. With its front McPherson strut independent suspension and torsion beam rear suspension, the OMODA C5 offers both comfort and strong support on bumpy roads or when navigating S-curves.
The vehicle also features an automated driving assistance system covering a broad spectrum of driving scenarios and ensuring all-round assistance and protection. Its intelligent voice regulation system facilitates precise interaction with the driver, and the state-of-the-art sound system paired with a HD full-color visual effect screen sets a delightful ambiance.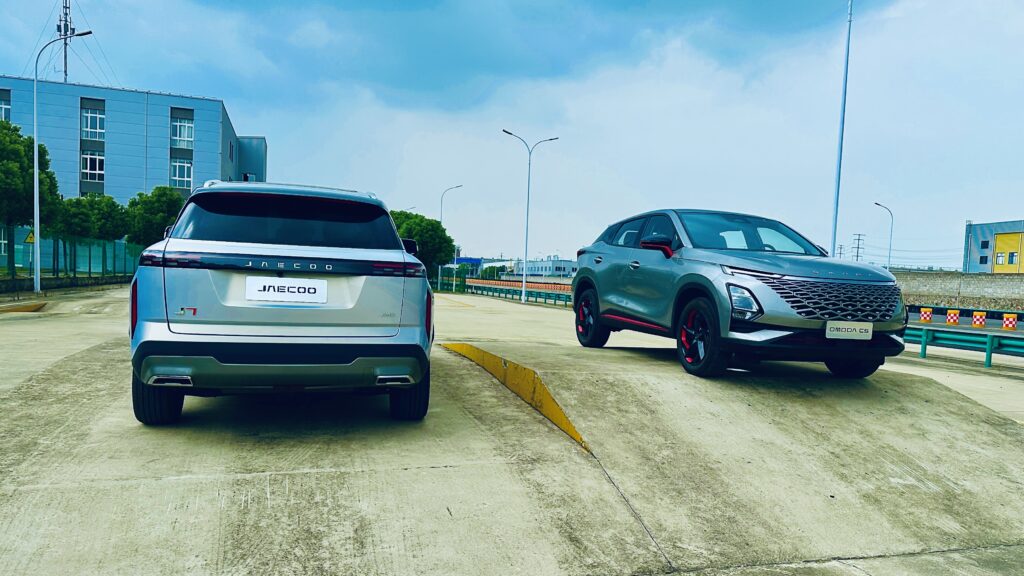 JAECOO: Transcending Classic
JAECOO, focused on urban off-road SUVs, draws its design inspiration from natural philosophy and inherits the genes of exquisite craftsmanship. It's committed to crafting the perfect vehicle for the discerning urban elites globally.
JAECOO 7, as the first light off-road SUV launched by JAECOO, combines the aesthetic of an urban sprite with the tenacity of a wilderness warrior, blending advantages of both urban SUVs and off-road vehicles, thus redefining refined off-road SUVs.
With a design dominated by straight lines, the JAECOO 7 presents a robust and forceful silhouette. The meticulous and spacious interior, accentuated with numerous metal trims, radiates luxury. A full LCD dashboard, W-HUD head-up display, and a 14.8-inch central control LCD screen create a sophisticated tech ambiance, elevating both intelligent and entertainment experiences.
Moreover, JAECOO 7's off-road capabilities are commendable. Equipped with JAECOO's exclusive ARDIS all-road intelligent system, it effortlessly tackles diverse road conditions, providing drivers with outstanding control and safety.
Beyond being a tough SUV symbol, JAECOO also actively champions sustainable development by integrating all-road capabilities with low-carbon initiatives. It features a high-efficiency power system and energy-saving technologies, offering urban elites a more comfortable and greener travel choice.
Witnessing Extraordinary Manufacturing in the Super Factory
Whether it's the futuristic driving pleasure of OMODA C5 or the advanced driving enjoyment of JAECOO 7, both emanate from the foundational product strength of an auto brand. At the core of this product strength lies profound technological reserves and manufacturing capabilities.
The Philippine media had the opportunity to visit the super intelligent factory located at the global headquarters of OMODA and JAECOO, witnessing its exceptional manufacturing and technological innovations.
The OMODA and JAECOO Super Smart Factory has been freshly crafted, mirroring the highest international benchmarks of intelligent factories and beacon lighthouse plants. This manufacturing hub embodies the advanced principles of digital intelligence, eco-friendliness, and lean efficiency.
Within this facility, a pioneering initiative has been launched in the automotive production sector: a C2M-centric approach anchored in an OTD process that prioritizes customer experience. By harnessing the power of the industrial internet, the factory has instituted a production model of vast scale that accommodates personalized customization. Moreover, it boasts a production quality management system on par with luxury brands, rendering it a paradigm of Industry 4.0 that matches any globally leading smart manufacturing standard.
From the inception of OMODA and JAECOO, the brands shouldered the responsibility of international growth. Factories of such magnitude have been strategically placed across various global regions.
Currently, OMODA and JAECOO have established a mighty presence with eight major bases in China, Russia, Mexico, Brazil, Morocco, Turkey, Egypt, and Indonesia. They also operate five research and development centers, underpinning their global expansion with robust technological support.
Furthermore, OMODA and JAECOO have amassed a global network of over 1500 dealerships and service points. Tailored service and product strategies have been devised in line with varied market needs, all orchestrated by a seasoned international business and management team. Together, they relentlessly strive to offer global consumers superior products and impeccable service.
Southeast Asia, particularly the Philippines, stands as a crucial strategic market for OMODA and JAECOO. The "Foresee the Future Way" test rides and drives have given the Philippine media a more tangible grasp of OMODA and JAECOO's brand philosophy, research prowess, and manufacturing scale.
This initiative not only provides a sneak peek of upcoming vehicle capabilities to Philippine consumers but also lays the groundwork for a more entrenched presence of OMODA and JAECOO in the region. We eagerly anticipate that future vehicle models will usher in more convenient, avant-garde, and intelligent travel experiences for users in the Philippines. (PR Omoda/Jaecoo)